Rajasthan High Court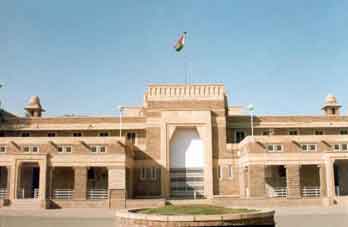 The Rajasthan High Court was established on 21 June 1949 under the Rajasthan High Court Ordinance, 1949. The seat of the court is at Jodhpur. The court has a sanctioned judge strength of 40.
The High Court of Rajasthan was founded in 1949 at Jodhpur, and was inaugurated by the Rajpramukh, Maharaja Sawai Man Singh on 29 August 1949. The first Chief Justice was Kamala Kant Verma. A bench was formed at Jaipur which was dissolved in 1958 and was again formed on 31 January 1977. Currently the sanctioned strength of the judges is 40 and actual strength is 22.
The Rajasthan High Court as 'A' Class State, started with the strength of only 6 judges. For scrutinizing as to whether the standard of working of all the Judges of the Rajasthan High Court as part 'B' State was as high as that of the Judges of the part 'A' State, the then Chief Justice of India, Hon'ble Mr. Justice S.R. Das came to Rajasthan. He observed that functioning of the High Court by sitting with the Hon''le Judges in the Court and found that all the 6 Judges were fit to be appointed and on his recommendation, the President of India, issued fresh warrants of appointment and once again the Oath taking ceremony took place on 1st Nov., 1956. Four Judges Viz. Justice Bapna, Justice Ranawat, Justice Sharma and Justice Bhandari used to sit in the Jaipur Bench, while Justice Dave and Justice Modi used to sit at Jodhpur, Chief Justice Wanchoo sitting at both places.
Important links:
#
Cause list
- Rajasthan High Court
#
Rajasthan High Court News
# E-Courts - Downloads - 1.
DSC form
2.
DSC form filing Guidelince
3.
Call logging Procedure - M Intergraph
#
Judges of Rajasthan High Court
#
Armed Forces Tribunal
#
Rajasthan Bar Council
#
SMS Procedure for case information Rajasthan High Court
#
Rajasthan High Court lawyers Directory
#
Rajasthan High Court Rules 2010
#
Recruitment
Landmark Judgments
|
Famous Trials
|
Historical Facts
|
Legal Profession
Law Maxims
# Acta exteriora iudicant interiora secreta - Outward acts indicate the inward intent
# Boni judicis lites dirimere est - It is the duty of a good judge to prevent litigation
# Conventio et modus vincunt legem - A contract and agreement overcome the law
Damnum sine injuria - damage without legal injury.
Ex facie - On the fact of it.
Faciendum - Something which is to be done.
Injuria non excusat injuriam - A wrong does not excuse a wrong.
How To Submit Your Article:
Follow the Procedure Below To Submit Your Articles
Submit your Article by using our online form Click here
Note* we only accept Original Articles, we will not accept Articles Already Published in other websites.
For Further Details Contact: [email protected]

Right Away Call us at Ph no: 9650499965
File Your Copyright - Right Now!