The Allahabad High Court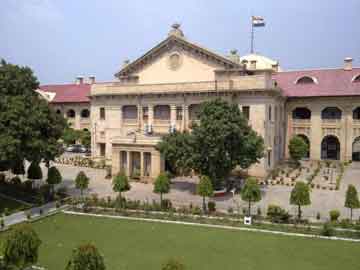 The Allahabad High Court has jurisdiction over the state of Uttar Pradesh since 1950. It was one of the first high courts to be established in India.
It was originally founded as the High Court of Judicature for the North-Western Provinces at Agra on 17 March 1866 by the Indian High Courts Act of 1861 replacing the old Sadr Diwani Adalat. Sir Walter Morgan, Barrister-at-Law and Mr. Simpson were appointed the first Chief Justice and the first Registrar respectively of the High Court of North-Western Provinces.
The location High Court for the North-Western Provinces was shifted from Agra to Allahabad in 1869 and the name was correspondingly changed to the High Court of Judicature at Allahabad from 11 March 1919.
On 2 November 1925, the Oudh Judicial Commissioner's Court was replaced by the Oudh Chief Court at Lucknow by the Oudh Civil Courts Act of 1925, enacted by the United Provinces Legislature with the previous sanction of the Governor General the passing of this Act.
On February 25, 1948, the Uttar Pradesh Legislative Assembly passed a resolution requesting the Governor to submit to the Governor General the request of the Assembly to the effect that the High Court of Judicature at Allahabad and the Oudh Chief Court be amalgamated. Consequently, the Chief Court of Oudh was amalgamated with the High Court of Allahabad.
When the state of Uttaranchal was carved out of Uttar Pradesh in 2000, this high court ceased to have jurisdiction over the districts falling in Uttaranchal. Allahabad High court was built by Khan saheb Nizamuddin of Loha Mundi, Agra, India. He also donated the water fountain to the High court.
Important links:
#
Cause list
- High Court of Allahabad
#
Judges profile
#
Court View - Online Court Activity Digital Display Board System
#
Allahabad High Court lawyers Directory
Landmark Judgments
|
Famous Trials
|
Historical Facts
|
Legal Profession
Law Maxims
# Acta exteriora iudicant interiora secreta - Outward acts indicate the inward intent
# Boni judicis lites dirimere est - It is the duty of a good judge to prevent litigation
# Conventio et modus vincunt legem - A contract and agreement overcome the law
Damnum sine injuria - damage without legal injury.
Ex facie - On the fact of it.
Faciendum - Something which is to be done.
Injuria non excusat injuriam - A wrong does not excuse a wrong.
How To Submit Your Article:
Follow the Procedure Below To Submit Your Articles

Submit your Article by using our online form Click here
Note* we only accept Original Articles, we will not accept Articles Already Published in other websites.
For Further Details Contact: [email protected]

Right Away Call us at Ph no: 9650499965
File Your Copyright - Right Now!